Жители Вилларибо и Виллабаджо (зачёркнуто))) ) почиталели моделей Endura® 4 и Delica® 4 Lightweights теперь смогут по достоинсту оценить новинку от Spyderco, разработанную именно для них.

Как заявляет сам производитель - это просто идеальная золотая середина.

Знакомимся, Endela.




ENDELATM

C243PBK / SBK
MSRP:
$123.00
ORIGIN:
Japan
Spyderco's Delica® and Endura® models are two of the most popular and widely used folding knives in history. These groundbreaking designs pioneered the concept of the lightweight, clip-carry, one-hand-opening folding knife and were instrumental in establishing injection-molded fiberglass-reinforced nylon (FRN) as a handle material.

In the three decades since their debut, the Delica and Endura Lightweights have steadily evolved to arrive at the current fourth-generation versions. Now available in a broad range of blade steels, grinds, edge configurations, and handle colors, these iconic models are considered by many to be about as perfect as working knives can be. But when it comes to knives, "perfect" is always in the eyes—and the hands—of the beholder.


To be honest, there really is no "one-size-fits-all" knife. Everyone's hand size and shape are slightly different, and each of us has our own preferred grips and working style. Similarly, the laws regarding blade length in the areas where we live and travel may limit the types of knives we carry. And when you get right down to it, for some folks the Delica may simply "seem" a little too small, while the Endura just "feels" a bit too big. That's OK, because now there's a third option: the "Endela."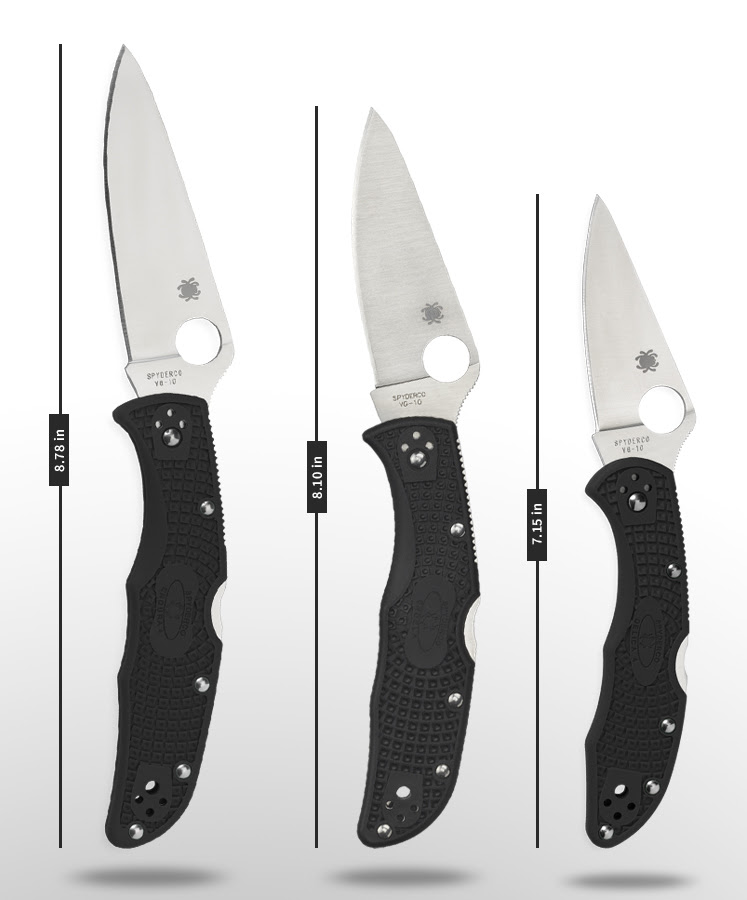 Carefully designed to literally split the difference between the best-selling Endura 4 and Delica 4 Lightweights, the Endela faithfully maintains all the highly refined, time-tested features of each, but in the perfect "in-between" size. Its satin-finished blade is crafted from VG-10 stainless steel and proudly features a fully accessible Trademark Round Hole™ for ambidextrous one-hand opening. The full-flat-ground blade is available with a PlainEdge™ or SpyderEdge™, and both include an area of jimping (textured grooves) just behind the Round Hole for a solid thumb purchase during use. Like its bigger and smaller brothers, the Endela's blade is supported by a sturdy back lock mechanism that includes a Boye Dent to help prevent unintentional lock release.

The Endela's handle features skeletonized stainless steel liners nested within injection-molded FRN scales. The liners ensure impressive structural strength and provide a solid foundation for the attachment of the knife's four-position hourglass clip. Secured by three screws, the clip allows tip-up and tip-down carry on both the left and right sides and, along with the knife's other features, makes all aspects of its carry, deployment, and operation completely ambidextrous. The Endela's FRN scales include Spyderco's trademark Bi-Directional Texturing™ pattern for a superior grip in even the most demanding conditions, while its screw-together construction and low-friction pivot washers ensure precise tolerances and smooth, reliable operation.


The inaugural version of the Endela features black FRN scales and a choice of two edge configurations. Like its progenitors, however, it is sure to become a platform for many other variations showcasing different blade and handle materials, colors, finishes, and other distinctive features.

No matter what exact form it takes, we are confident the Endela will prove to be a worthy companion to the Delica and Endura and a proud continuation of their legacy.
OVERALL: 8.10 in / 206 mm
BLADE: 3.41 in / 87 mm
EDGE: 2.99 in / 76 mm
WEIGHT: 3.1 oz / 88 g
GRIND: Full-Flat
ORIGIN: Japan
---
THE EVOLUTION OF THE
DELICA AND ENDURA
---

Spyderco's original Endura and Delica models were first introduced in 1990. Purpose designed to be lightweight, easy to manufacture, and affordable, they were instrumental in popularizing fiberglass-reinforced nylon (FRN) as a handle material. Their one-piece, injection-molded handles incorporated high-traction "Volcano Grip™" texturing on the obverse side and a molded integral pocket clip on the reverse side. Unlike our early stainless-steel-handled folders, which featured steel pocket clips configured for tip-down carry, the integral clips of the Delica and Endura positioned the knives for right-side, tip-up carry only. This clip design was also refined several times during the early years of production to strengthen it and make it less susceptible to breakage.

Early Delica and Endura blades were hollow ground from G-2 stainless steel, an alias for Hitachi's GIN-1 alloy. According to Spyderco co-founder Sal Glesser, "It was the best stainless available in Japan at the time. We couldn't put the name Gingami I on the blade because the maker had used it for another company and wanted it to be exclusive for them. We went for a while with no steel markings on the blade. There was no U.S. equivalent so when we decided to mark the blade, and we couldn't use Gingami I, we decided to make up a name and give the steel chemistry with the literature. We called the steel G-2 which stood for 'Good Sh*t also.' I tend to stretch humor a bit here and there."

Later expressions of both designs were also made with AUS-8 stainless steel blades and, like all early lightweight designs, were permanently assembled with riveted pivot pins. The handles of these first-generation knives were also produced in a number of different colors.

In 1996 and 1997, respectively, the Delica and Endura Lightweights were joined by the Delica II and Endura II, which offered the same proven designs in an all-stainless-steel format with AUS-6 stainless steel blades. Like the FRN-handled versions, they featured a sturdy back lock mechanism and were available with a choice of PlainEdge, SpyderEdge, or CombinationEdge™ blades.

The following year, the lightweight versions of these knives were completely redesigned, phasing out the integral clip in favor of a more durable steel clip. Attached by a two-piece barrel bolt, this style of clip provided reversible tip-up carry that made the knives truly ambidextrous and allowed both sides of the handle to have a molded texture pattern for an enhanced grip. The blade steel of these third-generation models was also upgraded to ATS-55 stainless and, a few years later, a Boye Dent—a scalloped cut in the lock bar that helps prevent unintentional lock release—was added to all versions of both models.

These third-generation knives also formed the foundation of Spyderco's first purpose-designed folding training knives. Designed for personal-defense and defensive-tactics training, trainers feature blunted blades that allow safe, controlled contact with a partner. Mechanically identical to their live-blade counterparts, they also have bright red handles to distinguish them from their sharpened brethren.


In 2006, the Delica and Endura were once again completely redesigned to yield the current fourth-generation models, which feature screw-together construction, low-friction pivot washers, and VG-10 stainless steel blades. To increase strength while keeping weight to a minimum, their handles have skeletonized stainless steel liners capped by FRN scales molded with Spyderco's trademark Bi-Directional Texture pattern for a superior grip. The stainless steel liners also provide a solid foundation for the attachment of a four-position hourglass clip. Secured by three Torx®-head screws, it supports tip-up and tip-down carry on both the left and right sides.

Following the introduction of both models with saber-ground blades, FRN handles, and all three edge configurations, Spyderco introduced a number of other variants of the Delica 4 and Endura 4. These included versions featuring the Emerson opening feature for quick deployment, stealthy black-bladed models, flat-ground versions with ultra-high-carbon ZDP-189 blades, families of full-flat-ground VG-10 versions with different colored FRN handles, blunted, red-handled trainers, and, most recently, Delica and Endura 4s with flat-ground Wharncliffe-style blades. The stainless-steel-handled expressions of both designs also followed suit, evolving to reflect the fourth-generation style and ergonomics and incorporating four-position clips to support all carry positions.


In addition to the various full-production versions of these venerable knives, both designs have also been a canvas for many other variations, Sprint Runs, Exclusives, and limited editions, including elite, investment-quality versions with jigged bone handles and Damascus blades.

The Delica and Endura are undeniably two of the most remarkable knife designs ever made. They have left an indelible mark on the cutlery industry and are sure to be with us in various forms for many years to come.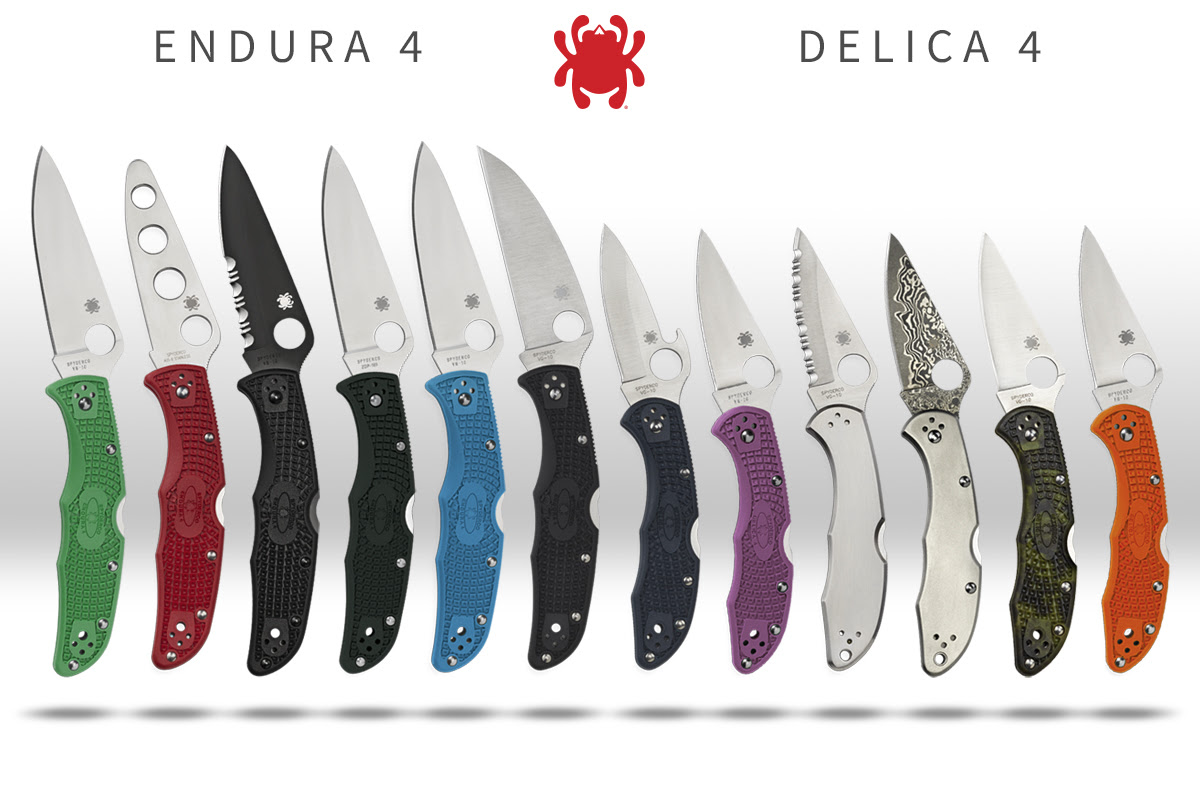 spyderco